The Wildcatter: To Trump or not to Trump?
Donald Trump hasn't tweeted on the governor's race, but he's come up anyway
Happy Monday! Welcome to The Wildcatter, where we're dealing with a subject that I wrote about surprisingly little while on the full-time state politics beat in Wyoming: Donald Trump.
Who loves Donald the most?
One interesting, if now trite, phenomenon in Republican politics since November 2016 has been the degree to which otherwise respectable GOP politicians and elected officials are willing to debase themselves to show Donald Trump fealty. I don't mean that as any kind of partisan commentary on the Trump administration's policies — most of which are well within the Republican mainstream — but rather that any serious businessperson or successful politician knows that Trump is neither of those things. Again, that's less value judgement than fact: Trump appears to have little understanding of most of the policies his administration carries out, he regularly makes contradictory and confusing statements and takes serious action on seeming whimsy. His track record in business was marked by multiple bankruptcies, credible accusations of fraud and successes that seemed more based on leveraging his public persona (see "The Apprentice") into lucrative licensing deals, than any meaningful acumen in real estate. All that is true even if you genuinely support everything the Trump administration is doing, don't mind the norms that the president is violating and believe that his presidency is a net benefit for the nation.
That brings us to a great article by Austen Huguelet in the Wyoming Tribune Eagle last week. It addresses a campaign mailer (see below) sent by Cheyenne businessman Sam Galeotos, who is running in the GOP primary for governor.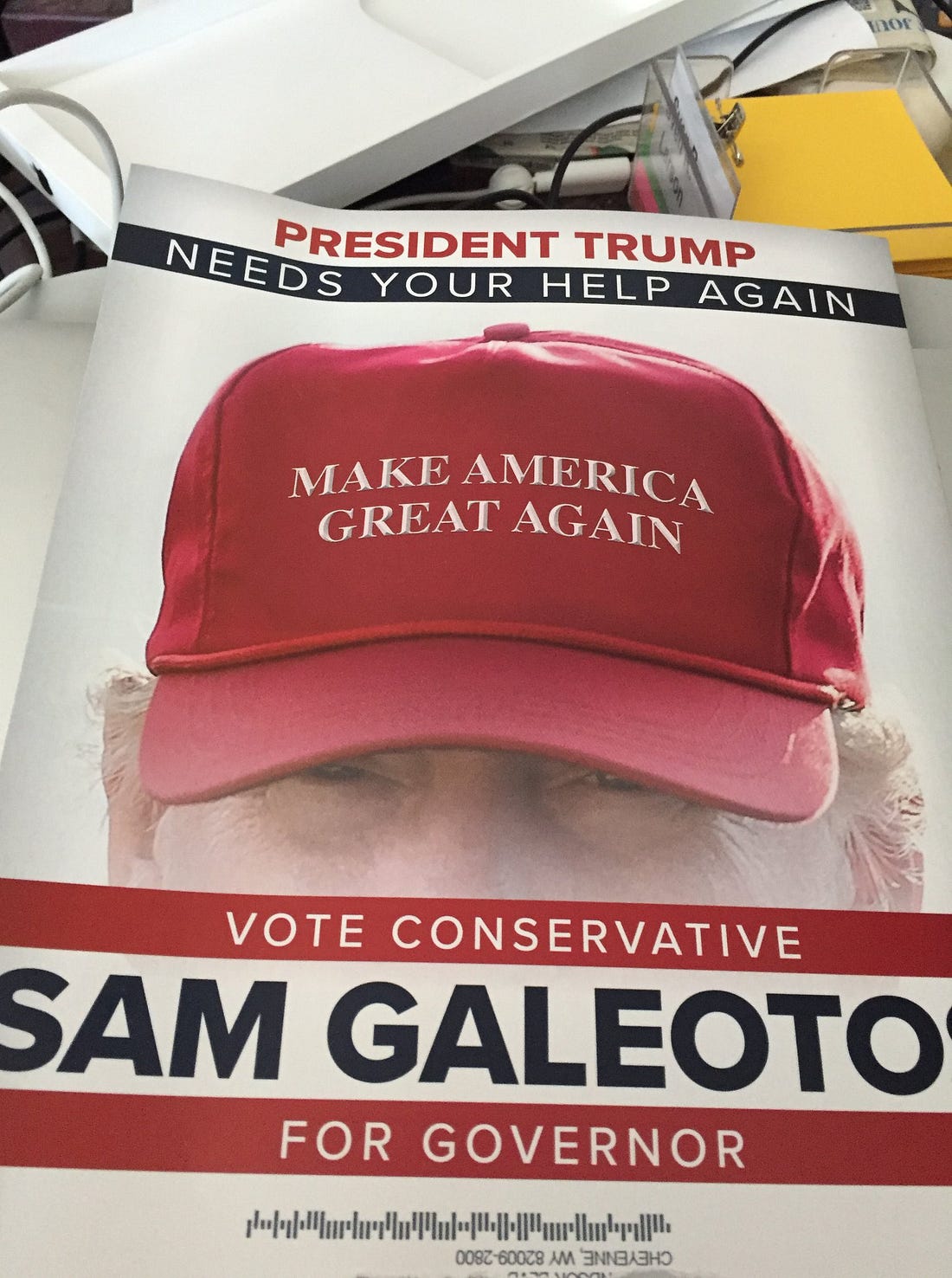 Galeotos is a political novice and was little known outside of Cheyenne before his name started circulating as a potential candidate last winter. Sources kept telling me that Galeotos was a "Trump guy," but nobody could explain what this meant. Sure, he was a businessman-turned-politician, but that only describes dozens, likely hundreds, of Republican candidates around the country in any given campaign cycle. Galeotos didn't seem to have a larger-than-life persona, a penchant for making controversial statements or a sketchy past. He wasn't turning out tens-of-thousands of prospective voters for rallies. As Huguelet noted in his article on the above flier, Galeotos didn't even donate to Trump during the 2016 campaign. So what made him a "Trump guy"?
All I can say is that his campaign has periodically sought to closely tie Galeotos to Trump, including in comments from former U.S. Rep. Cynthia Lummis, R-Wyoming, when she endorsed Galeotos last spring, and in the current mailer. It appears to have kind of stuck, both earning Galeotos the "Trump guy" moniker and leading astute political observers in the Cowboy State to notice that it appears Galeotos is hitching his cart to the president.
University of Wyoming history professor Phil Roberts told me that things usually go poorly for governor candidates who try to attach themselves to national politics, and that most of the candidates this year had stayed away from doing so "with one exception."
That exception is Galeotos.
"I notice Galeotos is more and more at least directing that way," Roberts said. "Candidates that have done that in the past, from either party … have done so at their peril."
That peril stems partially from the fact, Roberts said, that there is a tension between the State of Wyoming's interests and those of the federal government — even under a friendly federal administration. There's an added danger given how volatile Trump's presidency has been and while it's difficult to see what Trump could do that would spoil Wyoming voters on him, there's always the possibility.
"He runs a risk especially if things go south on Trump," Roberts said.
The thrust of Huguelet's article was that other campaigns think Galeotos is unfairly implying that Trump has endorsed him or, absent such an endorsement, that a vote for Galeotos is somehow uniquely a vote for Trump.
"I just think that it was an effort to convince people of something that isn't there," candidate Harriet Hageman told Huguelet.
But what makes the article interesting is that, perhaps because of the reasons that Roberts noted, none of the other candidates actually seem to want to claim that they are a better fit to support Trump if elected. There's also the debasement question. Galeotos seems OK tying his very reasonable candidacy for the governorship of Wyoming to an erratic president with whom he likely shares little in common with. The other candidates have been lessing willing to do the same.
For example, Gordon spokeswoman Kristin Walker tried to undermine Galeotos's alleged support for Trump:
"Sam was nowhere to be seen at the 2016 Wyoming Republican Party Convention, when the party chose delegates to elect the Republican nominee for president," she wrote in a statement. "He hasn't donated, served in an advisory capacity or done anything to support President Trump's agenda, as far as anyone knows."
But she then declined to say that Gordon had any stronger connection to Trump:
Walker … is focusing on Gordon's record of "upholding and defending the Constitution, saving taxpayers money and fighting back against federal overreach," and on supporting "Wyoming Republicans and conservative causes."
Foster Friess's team did the same thing, suggesting that Friess didn't support everything that Trump did but had useful connections to the administration nonetheless.
In other words, the other candidates seem OK ceding the Trump guy ground to Galeotos but are nonetheless mildly annoyed that he seems to be doing so without any actual basis (Galeotos is actually an accomplished businessman, for one). Whether the tact pays off with voters or leaves them confused as to whether Trump actually endorsed the candidate — and if not what he's doing on a Galeotos mailer — remains to be seen.
And that's it for this week, folks! Thanks for reading and please let me know what you would like to see in this newsletter — I've had a couple requests for more photos and I'll do my best, though there are a limited number of non-copyrighted images of the folks in Wyoming that I'm writing about. Finally, once again, if you're enjoying The Wildcatter please forward it around and encourage your friends to sign-up.