The Wildcatter: It all comes down to this
This year's election was always going to be Wyoming wild — it's been wilder
Happy Monday! Or, as the state's chattering political class knows it, Happy Day-Before-We-Find-Out-Just-How-Weird-This-Year-Will-Be. It's times like these that I'm sad to be out of the daily newspaper reporting game in Wyoming. There's so much going on! Thankfully Nick got in at the Star-Tribune at least a couple weeks ahead of the main event and word is that the Wyoming Tribune Eagle has hired Ramsey Scott of The Sentinel in Aurora, Colorado to become its state politics reporter. Too late to cover the primary, but at least the state's small political press corp is returning to full size.
Get up to speed on the election with these articles from last week:
On Wednesday morning we'll all have a lot to unpack. There are interesting races across the state, including the contest to replace retiring Sen. Bruce Burns in Sheridan, a competitive Democratic primary in a Cheyenne House seat between rising star Sara Burlingame and former state senator Floyd Esquibel and occasionally nasty GOP infighting in the races for state auditor and treasurer. Oh, and then there's the question of how many votes Republican insurgent Rod Miller can pull away from Liz Cheney in the House primary. And also which Democratic will earn a spot on the November ballot to face Cheney (nobody with a chance of beating her is running, but still). But the governor's race is the big one — and that's what I'll be digging into this morning, with a look at John Barrasso's very brief campaign as well.
By the way, if you enjoy this newsletter please consider chipping in $5 per month so that I can keep writing it and ensure it remains free for everyone (you can click the button below if you'd like to contribute).
But first, this…
I just want to draw everyone's attention to the latest (and perhaps last) chapter in the very weird saga about the war booty at F.E. Warren Air Force Base that Wyoming's congressional delegation has been adamant about keeping the state for unclear reasons.
The Department of Defense finally agreed to return the Bells of Balangiga to the Philippines last week. The bells were looted as part of a revenge massacre by American soldiers in the Philippines in 1905, during the U.S. occupation of the islands. Basically, Filipino insurgents successfully killed dozens of U.S. soldiers and in response, the Americans murdered all Filipino boys and men over the age of 10 in a nearby town — and then took a pair of church bells for good measure.
But Sens. Barrasso and Mike Enzi, along with Cheney, seem oddly attached to the bells, saying in a statement:
These bells are memorials to American war dead and should not be transferred to the Philippines.
They wouldn't answer any of the Star-Tribune's questions about the bells. But anyway, Barrasso, Enzi and Cheney all think that bells stolen from the Philippines in conjunction with a brutal massacre of civilians should stay in Wyoming. Good to know.
Barrasso's five-minute campaign
There are two ways to look at Barrasso's Senate campaign. One is that he seems to have been in a deep slumber until, oh, like a week ago when his team started running a bunch of slick video advertisements on social media (I'm not watching local television in Wyoming, so don't know what the airwaves look like). The other is that he's been running for reelection for the past six years, and the last-minute campaign is just a formality. Both are likely true. Barrasso has voted and acted in line with what most mainstream Republican voters in Wyoming expected him to, and he's been back in the state frequently enough that he's in a good position to cruise to reelection with little effort.
But it does seem like Team Barrasso decided within the last few days that ceding 20 or 30 percent of the primary vote to challenger David Dodson would be at least moderately embarrassing and best avoided.
I'll eat my hat if Dodson wins. Heck, I'd be surprised if he breaks 20 percent in what is actually a weirdly crowded Republican primary field (one that includes former Democratic candidate Charlie Hardy, among others). He doesn't seem to have properly staffed his campaign or created the kind of ground game necessary to win. He's not terribly charismatic, has had a consistently muddled message and no real Wyoming bonafides — nobody knows him and he has no base of support. What he does have is a good lock on the anti-Barrasso vote, from those who are more moderate than the senator to those who are just mad at the establishment or see Barrasso as too close to Senate Majority Leader Mitch McConnell. Dodson has put forward serious ideas about the state and toured around it enough that these folks can feel like they're casting slightly more than a protest vote against Barrasso.
Barrasso doesn't want to lose a significant chunk of the primary vote for a couple reasons:
It hurts his reputation. Barrasso has gone largely unchallenged in the Wyoming political scene for the last decade or so, relying on a strong base of establishment support and refusing to stick his neck out in any way that would cost him politically. If that's not good enough to collect 80 to 90 percent in a primary without true competition (see: Foster Friess or Erik Prince), then his aura of invincibility becomes tarnished. If a political unknown like David Dodson can pull 30 percent of the vote with a campaign based primarily on direct mail, then what could a firebrand lawmaker or seasoned businessman from Cheyenne or Casper do with a bigger war chest and more name recognition? Barrasso doesn't want to find out.

It weakens him in the general election. If Dodson's attacks on Barrasso penetrate a significant chunk of the Republican electorate, some of those voters may be disinclined to support Barrasso in November. Barrasso doesn't want to cede 5 or 10 percent of the general election vote to Gary Trauner as a result of Dodson's jabs.

It's embarrassing. Barrasso is a high-ranking Republican senator. He has a professional political staff and millions of dollars to spend on a campaign. Dodson was always likely to pick up a sliver of anti-Barrasso voters, but there's no reason to let him pick up an additional segment as a result of Barrasso failing to really run a reelection campaign.

He could lose. Again, I don't think Dodson has a chance at winning. But he could! There have been no public polls done in the race, though I know Dodson's team has done some internal polling and I'm sure Barrasso's campaign has as well. So they may know better about the odds of a crazy upset than I do, but basically you never know — and better safe than sorry.
In order to avoid any of these outcomes, Team Barrasso has pushed out four full-length video advertisements, including one directly attacking Dodson, a generic "I'm a good senator" ad and two touting specific constituent services-style work that he's done while in office. There's also a weird six second video advertisement featuring his wife Bobbi saying, in the ad's entirety, "Please vote for my husband John Barrasso on Tuesday. Thank you!" He also has some other short Facebook ads floating around, including one promoting his support for President Donald Trump's SCOTUS pick.
It's funny to watch a slick campaign kick into gear with a week to go before the election. If Dodson somehow manages to take a major bite out of Barrasso's support in the primary, it'll be hard not to fault the late start.
Despite everything, I think Gordon will still win the GOP primary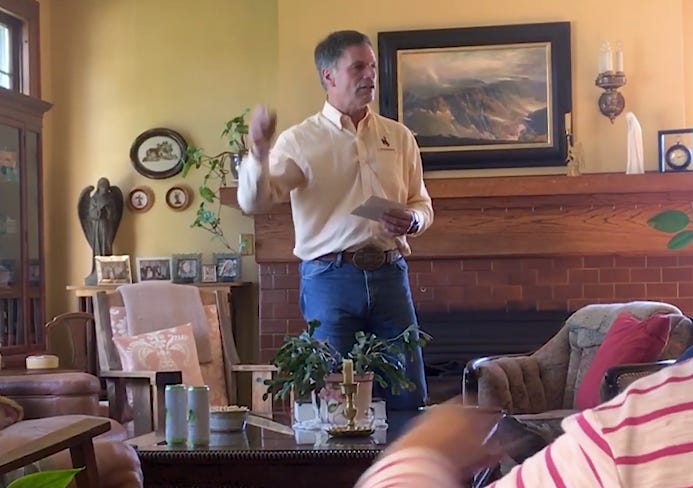 I'm making this prediction because throwing my hands up would be too easy.
Foster Friess is suddenly a serious competitor in this race, with a poll of rather dubious origin placing him number one (it was conducted by a GOP consulting firm, not a public interest polling firm. Who paid?). The feud between Harriet Hageman and Taylor Haynes has gotten so intense that what seemed like a plausible 25 to 30 percent of the primary vote for Hageman is she could win over his supporters has vanished. Sam Galeotos earned the Star-Tribune's endorsement and, as the newspaper noted, seems like the most dynamic candidate running, and yet has to deal with Friess and probably even Sheridan businessman Bill Dahlin pulling away businessman/political outsider votes.
My point is, the race is weird enough that I could well throw up my hands. I don't know what will happen, but I think current State Treasurer Mark Gordon will eek out a victory in a primary that will see higher-than-usual turnout given the massive sums of money poured into the race by Gordon, Friess and Galeotos and the grassroots support driving Hageman and Haynes.
Gordon's victory will be based on five components: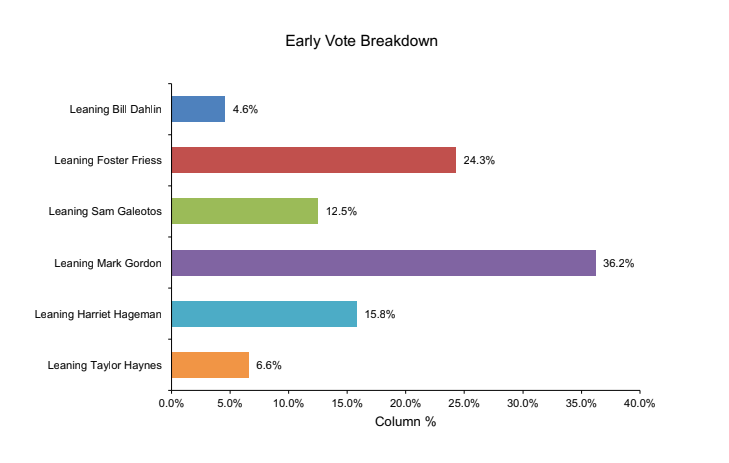 Early voting. Friess was late to get his campaign off the ground (well, he was late in even deciding to run) and even if the tide turned in his favor in mid-August, thousands of ballots have already been cast and the pro-Friess Trafalgar poll said those returns will favor Gordon by a significant margin.

Anger at Friess. While Friess may have turned some undecided voters in his favor, he has also served to energize those voters who back one of his opponents or who were undecided but angered by the notion of a Jackson snowbird trying to buy a Wyoming governorship. Those angry voters won't miss this election — and I think backing Gordon is seen as the safest bet to oppose Friess.

Friess voter apathy. Anger at Friess could be mitigated by a big turnout among his supporters. The only problem? His supporters are by definition newly converted and likely have little particular loyalty to Friess. Whereas the anti-Friess vote will definitely show up, I don't think everyone who is telling pollsters they back Friess will actually bother to voting on Tuesday.

Attacks on Galeotos. Hageman (and possibly others, there's a lot of dark money sloshing around now) has gone after Gordon and Galeotos aggressively, considering them her strongest opposition in what used to be a three-way race. I think these attacks hurt Galeotos more than Gordon. Gordon is the only veteran politician in the race and for those who care about experience in statewide office, he's the only choice. Both Galeotos and Friess have built up reputations almost from scratch and touted their business bonafides and personal accomplishments. Voters who see mud slung at Galeotos could well flip to Friess in a way that they couldn't flip from Gordon.

Support from Democrats. There's a small push being made by Independent Republicans of Wyoming, a pro-Gordon popup, to encourage Democrats to vote for Gordon as the only moderate in the race. Even just a 1,000 new votes for Gordon through this method could make a big difference.
I'm fully ready to embarrass myself with these predictions, but here's my handicap for Tuesday's race:
Mark Gordon, 27%

Foster Friess, 22%

Harriet Hageman, 21%

Sam Galeotos, 19%

Taylor Haynes, 8%

Bill Dahlin 3%
(One final thought: If Gordon or Galeotos wins the primary, they'll likely cruise to victory in November. If Friess or Hageman come in first, Democrat Mary Throne will have a fighting chance.)
That's it for this week, folks — thanks for reading and once again, if you're enjoying The Wildcatter please forward it around and encourage your friends to sign-up. Once again, chip in if you can with the button below!