The Wildcatter: Dodson miscalculates -- and pays
John Barrasso won't debate David Dodson, who gave up what little leverage he had
Happy Monday! Welcome to The Wildcatter, where we're still focused on the upcoming election — today looking at the U.S. Senate contest, which went from a snoozer of a race to a potentially intriguing contest, before reverting back to nothingburger status. Why? Because John Barrasso is a savvy politician and David Dodson is… not.
Before we dive in, I'd also like to draw everyone's attention to some of new Star-Tribune reporter Nick Reynolds's recent work. First, he took a long look at what impact Harriet Hageman's attacks on her rivals will have on her chances in the governor's race. Second, Reynolds spoke with a few folks about Democratic National Committee chairman Tom Perez's fundraising trip to Jackson, where he sought contributions for both national and local candidates. Come for the in-depth analysis, stay for Dave Freudenthal's mild trolling of national political figures ("(B)oth parties tend to raise money in Jackson … They don't show up in Wyoming generally … They show up in Jackson.").
It's great to see state politics reporting returning to the Star-Tribune after a brief hiatus while they hired my replacement and I want to encourage everyone to subscribe to the newspaper — with one strong suggestion. If you subscribe, please email general manager Dale Bohren (dale.bohren@trib.com) and let him know why you're doing so, or why you already do. I love the Star-Tribune because of its great reporters and editors, but its corporate business model doesn't always prioritize the newsroom. That's why it's essential to let them know that you're subscribing because of the quality and breadth of reporting. Plus, a digital subscription is just $5 per month at the moment, which is a crazy good deal and the same price as the suggested donation to The Wildcatter (see button below).
Barrasso knows what he's doing — Dodson doesn't
The power of incumbency, arguably, does a great disservice to our democracy. If elected officials were truly responsible to, and able to be held accountable by, the public, then incumbents would be seen as far more vulnerable during elections than challengers. After all, an incumbent has a track record that voters can examine and find lacking. But that's not the world we live in. For politicians who know what they're doing, incumbency is king. And John Barrasso knows what he's doing.
Barrasso has been a longtime fixture of Wyoming politics, first running for federal office (against Mike Enzi) in the 1990s, and then serving for several years in the Wyoming Legislature before being appointed to Craig Thomas's vacated seat by Freudenthal. Though not beloved or particularly distinguished (show me the lie), Barrasso has solidified his post as the state's junior senator, traveling Wyoming for community events on many weekends and even regularly serving as a standby physician at the Central Wyoming Fair and Rodeo to burnish his cowboy bonafides. Throw in his status as a good Republican foot soldier who rose to a senior rank in the GOP Senate leadership and Barrasso has a solid grip on power.
That's what makes this year's Senate race something of a non-contest. Democrat Gary Trauner is running a serious campaign but Barrasso has given little indication of vulnerability (no scandals, controversial votes, failure to return to the state, etc.). After the prospect of big name and big money candidates Erik Prince and Foster Friess vanished from the Senate picture, the only remaining curiosity was Jackson businessman and political novice David Dodson.
Dodson was never going to win. But the Republican's initial plan to run as an independent in the general election could have thrown a wrench into Barrasso's reelection. If Dodson was able to pull a few percentage points from disaffected Republican voters — say, some of the roughly 6 percent of Wyoming voters who backed Gary Johnson or Evan McMullin for president in 2016 — he could end up throwing the race in Trauner's favor. This possibility, which still would have required Trauner to push 45 percent on his own, was likely what prompted outrage from Wyoming GOP chair W. Frank Eathorne when Dodson announced his plans and led Barrasso's team to start circulating information about Dodson's past contributions to Democrats.
But after a few months Dodson gave up his plan to run as an independent. He registered to run in the Republican primary, presenting his decision as a response to people who questioned whether he was running a good faith campaign or simply looking to serve as a spoiler in November. But if Dodson's decision to enter the primary instead was genuinely meant as a good faith gambit, Barrasso hasn't returned the favor. Barrasso has declined to debate Dodson. That's a politically savvy move — why give oxygen to an opponent who currently has no chance of beating you? — but one that deprives Wyoming voters of, well, a genuine debate, and Dodson of a much needed platform.
(Barrasso, for the record, said he wanted to attend but could not because the Senate had extended its session into August.)
Dodson's leverage was never fantastic. He likely had the resources to collect the 5,000 signatures required to run as an independent candidate in November, and has shown a willingness to spend some advertising dollars attacking Barrasso. But Barrasso received 76 percent of the vote in 2012, meaning the senator could afford to bleed a significant number of votes to Trauner and Dodson before sweating. Plus Dodson hasn't crystalized a coherent and salient attack on Barrasso, like his closeness to Senate Majority Leader Mitch McConnell. Still, earning 5 percent of the general election vote would have made Dodson a factor in the race and the prospect of a tight race might encourage otherwise apathetic Trauner supporters to turn out in greater numbers. Instead, Dodson placed himself in a primary election where even earning 10 or 20 percent of the vote is rather meaningless.
Dodson should have demanded a trade of sorts: he would agree to enter the primary election and give up his general election bid in exchange for Barrasso promising to debate him. I don't know if Barrasso would have taken the deal but it would have been a win-win situation for Dodson. If Barrasso agreed to the debate, Dodson's would have received a huge amount of publicity and the chance to force Barrasso into a gaffe, or at least get in a few good lines. If he'd declined, Dodson could have remained in the primary and said that it was Barrasso, not he, who was running a campaign in bad faith. Barrasso might well have taken the deal. The senator is a skilled speaker comfortrable parlaying with cable news anchors and might well have figured the risk of elevating Dodson's platform would be neutralized by the benefit of getting him off the November ballot.
Instead, Dodson dropped his independent campaign with no guarantees from Barrasso's team and is now stuck running Facebook advertisements like this: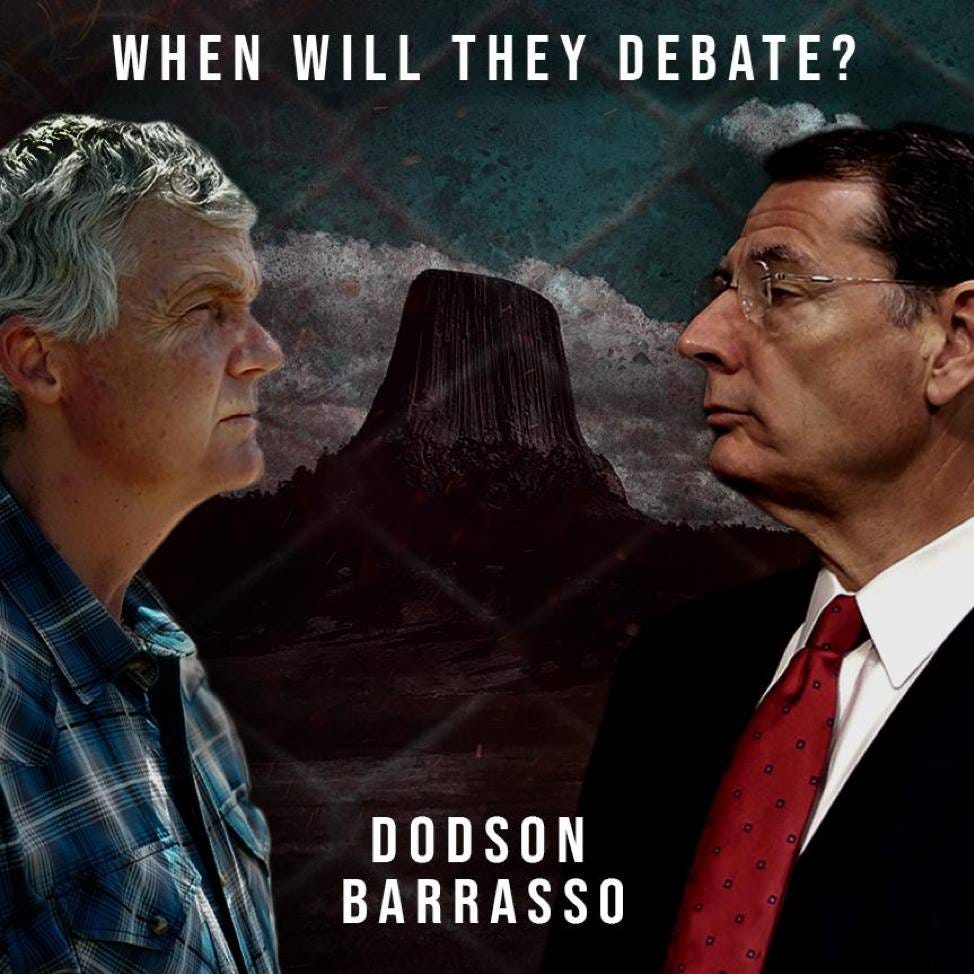 Good luck, man!
That's it for this week, folks — thanks for reading and once again, if you're enjoying The Wildcatter please forward it around and encourage your friends to sign-up. I've seen a big uptick in sign-ups over the last week, so appreciate all those who shared the newsletter and hope more of you continue to do so. Expecting to have a slightly newsier newsletter next week, so keep an eye out for that!