307 Politics is dead, long live The Wildcatter?
Welcome to an experimental home for Wyoming political coverage
Happy Monday! Welcome to… well, not quite 307 Politics.
I launched 307 Politics last winter while I was working as state politics reporter at the Casper Star-Tribune. It was meant to be a one-stop shop for all of the newspaper's political coverage with a dedicated section of the website along with Facebook and Twitter pages for readers to follow along. But "307 Politics" became primarily associated with the eponymous Monday morning email newsletter about Wyoming politics that went out to thousands of our readers — until this week.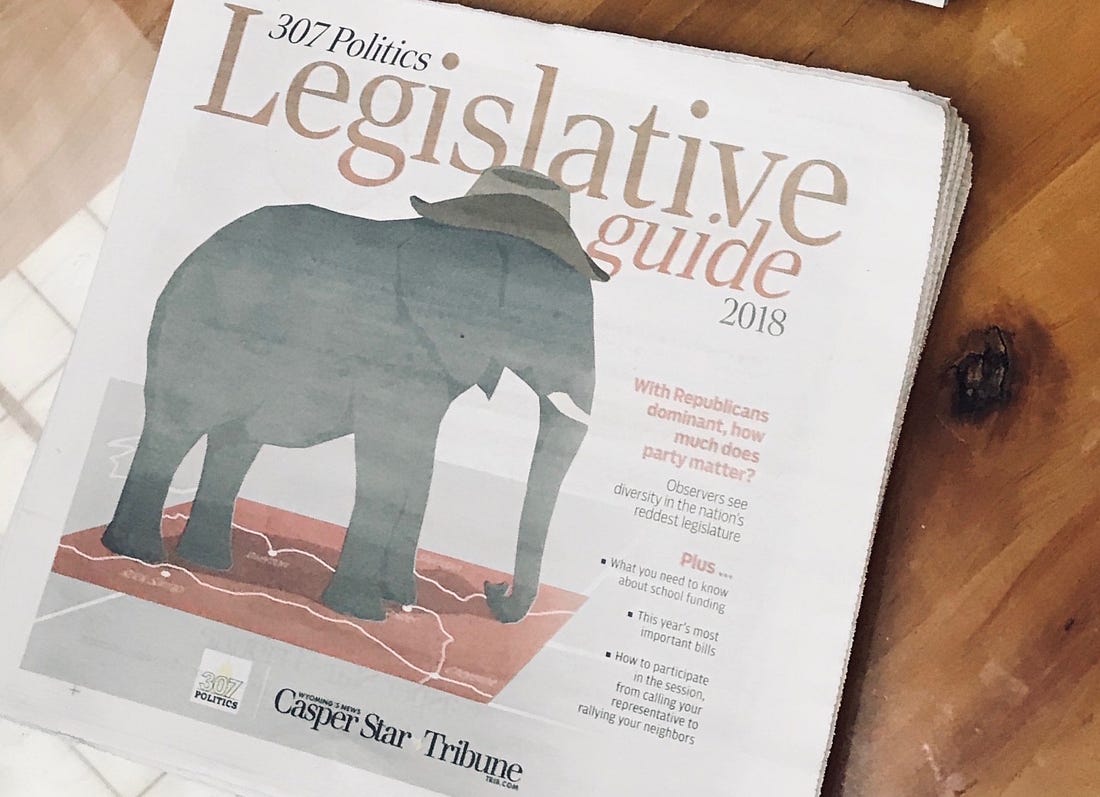 After leaving my full-time role at the Star-Tribune in May, I continued writing the newsletter on a freelance basis. But my contract expired at the end of June and so I'm trying something new: an independent newsletter relying directly on reader support.
Over the next few months, voters will select a new governor and other statewide electeds. Dozens of legislative seats are up for grabs. John Barrasso and Liz Cheney are both running for reelection. The state is grappling with an uncertain future as it stares down a deficit caused by the diminished energy economy. Public lands are coming back into the spotlight. New federal policies are staring to have an impact in Wyoming. I'm familiar with all these issues and want to use The Wildcatter to continue providing original reporting and analysis. But, as cheesy as this sounds, I need your help in two ways.
1. Ask your friends to sign-up for this newsletter
I can't reach many readers on my own. But I know Wyomingites are a close-knit bunch and word of mouth counts for a lot here. If you can forward this email to just one friend or colleague — better yet four or five! — and encourage them to sign up, I'll be able to build a meaningful base of readers that will keep this newsletter viable.
2. Consider chipping in with a subscription
The average 307 Politics newsletter took about eight hours of work:
Hours on the phone with sources;

time to research background information;

writing and formatting the newsletter;

scouring media outlets in the state and around the country for important stories about Wyoming politics to include in the roundup section.
I enjoy all this, but it's not sustainable to do it for free. I don't want to shut any readers out simply because they can't pay. But if you have the means to do so, and want to keep reading my coverage of Wyoming politics, please consider hitting the button below and chipping in $5 per month.
The Wildcatter is an experiment and I don't know what the future holds. But I'd like to find a way to keep covering Wyoming politics this is what I've landed on. Let me know if you have feedback on any of this, including what you'd like to see in the weekly newsletter, either by replying to this email or reaching me directly at arnorosenfeld@gmail.com.
Thanks for your support!
Arno